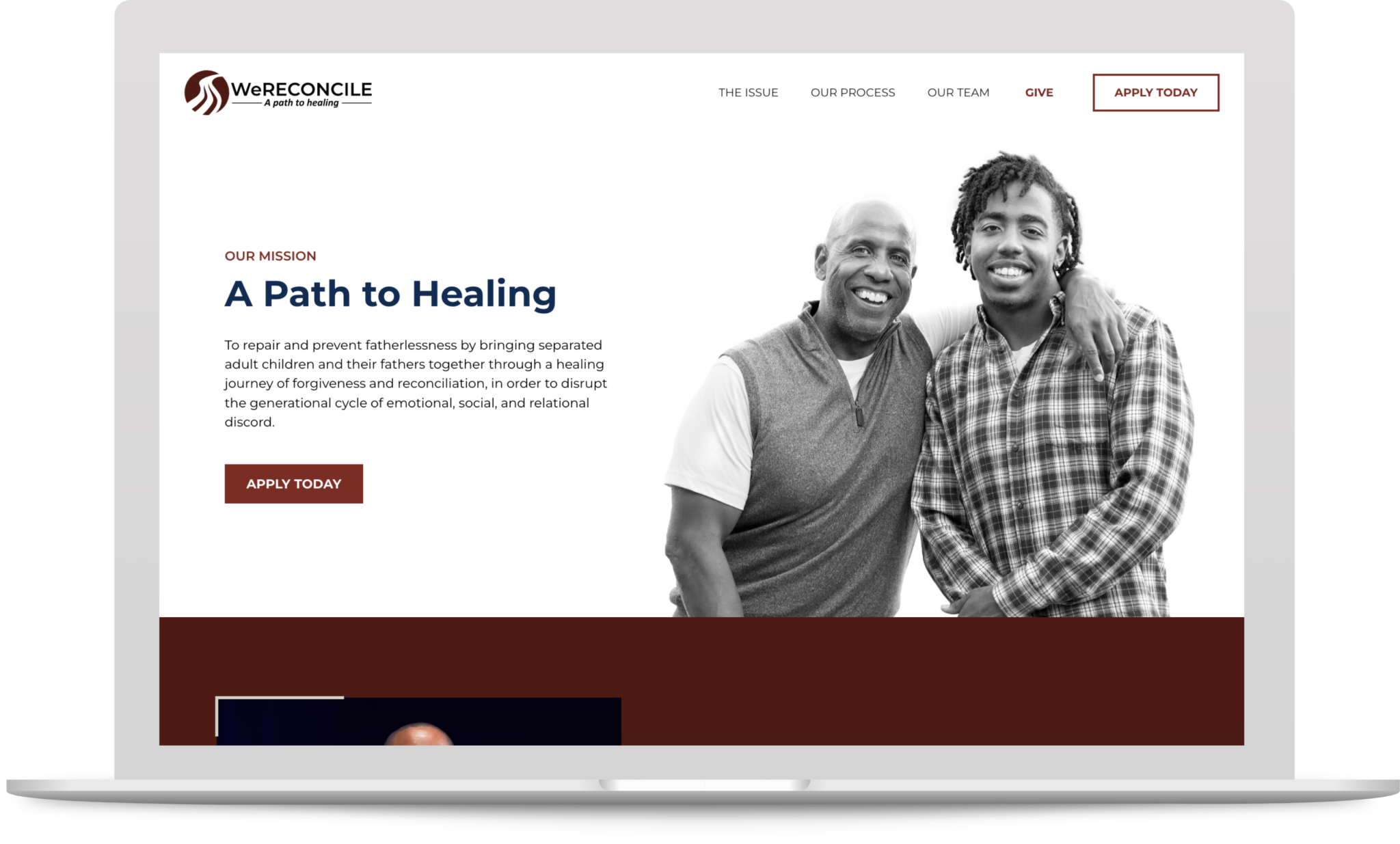 7 Stats that Prove the Value of a
Custom Website
Why investing in a custom website saves you from hidden costs and opens up your business for better growth.
97% 1 of people go online to learn about a local business before engaging with the business.
Your website is where your brand makes its strongest first impression. So do you make a good impression?
You have 0.05 seconds 2 to create a first impression.
Your business is so much more than your website, but your visitors won't become customers if they form a poor opinion of you based on your website. You may never get a second chance to win them over.
First impressions are 94% 3 design-related.
Investing in a good design will give your site the first impression it needs to drive the success of your website. This is why design is such a key part of our custom website design process.
38% 4 of people will stop engaging with a website if it is unattractive.
38%4 of lost visitors may be weather-able for large businesses, but if you run a small business, this could be a significant handicap to your revenue and client stream.
75% 5 of consumers admit to judging a company's credibility based on their website design.
In your website visitor's brain: a good website = a good business. Instead of having to defend a bad website to new leads, use a good website to build trust for you before you even get to connect with the customer.
57% 6 of internet users say they won't recommend a business with a poorly designed mobile website.
Referrals are key to any business' success. Here are 3 reasons why. Customer referrals are low cost, lead to more trust, and create a virtuous cycle. Invest in a website that makes referrals a no-brainer for your customers.
61% 7 of users are unlikely to return to a mobile site if they had trouble accessing it and 40% 7 visit a competitor's site instead.
A poorly made website isn't working for you, it is working for your competitors. So you thought you could save some money by building an inexpensive templated website. Little did you know that not only is your website deterring potential business, it may also be helping your competitors grow. The cost of that "inexpensive" website is much more than you may realize in lost sales, aiding competitors growth, poor referral cycles, etc.
Cheap Websites have
Hidden Costs
Hidden Costs:
Compromised Integrity
A cheaper website typically correlates to a lack in one or many of the following areas:
More plugins are used to save development time. The problem is, plugins are the primary cause of security breaches with websites, and the more heavily you rely on them the more risks you carry with your sites.
Your business begins to grow. Unfortunately, the theme or plugin suite you used to build your initial site cannot support additional features that will continue to grow your business. You now have the cost of all this lost business and potentially a completely new website build (going back to square 1)
As noted in the statistics above, poor design has a direct impact on your website's ability to turn visitors into customers. These lost conversions will be felt on your bottom line. See potential revenue calculator
When a site isn't custom built to your businesses needs, it can end up blindly following the will of a template developer. This "one-size-fits-all" approach will be felt and affect the opinion of your visitors. A poor opinion will affect conversion rate as well as referral rate (as seen in the stats above)
Without proper configuration, a slow website (a common factor tied to template builders and a high number of plugins) will continue to push visitors to your competitors.
Lost Customers
Use the calculator to determine just how much it costs your business to lose a customer because of a poorly designed website.
Lack of Professional Strategy
A website built without a professional strategy will compromise your future marketing efforts. This even includes your face-to-face marketing.
Helping Competitors Grow
Every lost customer of yours could mean a new customer for your competitors. That means less market share, fewer referrals, and less life-time value in your revenue.
Short Website Lifespan
Have you considered the differences between the lifespan of a templated website versus a custom built website? A custom website does not overly rely on template builder and plugins which could be abandoned by their developers at any time. That being said, a custom website's lifespan could be 3-5x longer than a templated site. And if the website is helping your business grow while holding its value as an asset, you have a win-win!
How much are you losing to
Hidden Costs?
Enter the average revenue per client, per year.*
Enter how many years you typically retain a client.*
Enter the average number of referrals you get from each client.*
Total amount of revenue LOST from just ONE conversion:
$0.00
Our Custom Websites Maximize your Return on Investment
Return on investment:
Built with Quality
We offer 24/7 security monitoring, nightly backups, free malware removal, as well as secure server hosting so you don't need to use any additional security plugins
We build lightweight websites tailored specifically to your websites needs. We avoid all the unnecessary weight of theme templates and plugins that slow down your site. And to take it one step further, we even optimize the minimal amount of stylesheets and scripts that your website needs to run. We also offer management plans to host your website on premium servers setup with a CDN and custom caching technology.
We build custom websites with flexible components that allows your website to adapt and scale quickly and efficiently.
We tailor our design process to be interactive and allow for a high volume of feedback / presentables along the way.
Your website will be structured and designed to meet the needs of your users
Convert your Websites Leads
Use the calculator to project what a new website lead could add to your revenue.
Own your Market Share
Differentiate from competitors and lead your market with your brand.
Retain your Websites' Value
With all the above factors, our custom websites help your business grow while holding their long-term value as an asset.
Return on Investment of a conversion:
Enter the average revenue per client, per year.*
Enter how many years you typically retain a client.*
Enter the average number of referrals you get from each client.*
Total amount of revenue Gained from just ONE conversion:
$0.00
Tell us about
your business
Have questions or looking to discuss your latest project? Let's start a conversation. Fill out this form and we will be in contact shortly to schedule a call.
*We do not sell or otherwise disclose personal information collected by our site to third parties. We use your information to contact you about your request.
References
https://seotribunal.com/blog/stats-to-understand-seo/#local-seo-facts
http://www.tandfonline.com/doi/abs/10.1080/01449290500330448
https://www.researchgate.net/publication/221516871_Trust_and_mistrust_of_online_health_sites
https://blog.hubspot.com/marketing/compelling-stats-website-design-optimization-list
https://www.kinesisinc.com/the-truth-about-web-design/
https://www.socpub.com/articles/the-5-mobile-marketing-mistakes-infographic-14849
https://www.impactbnd.com/blog/mobile-marketing-statistics